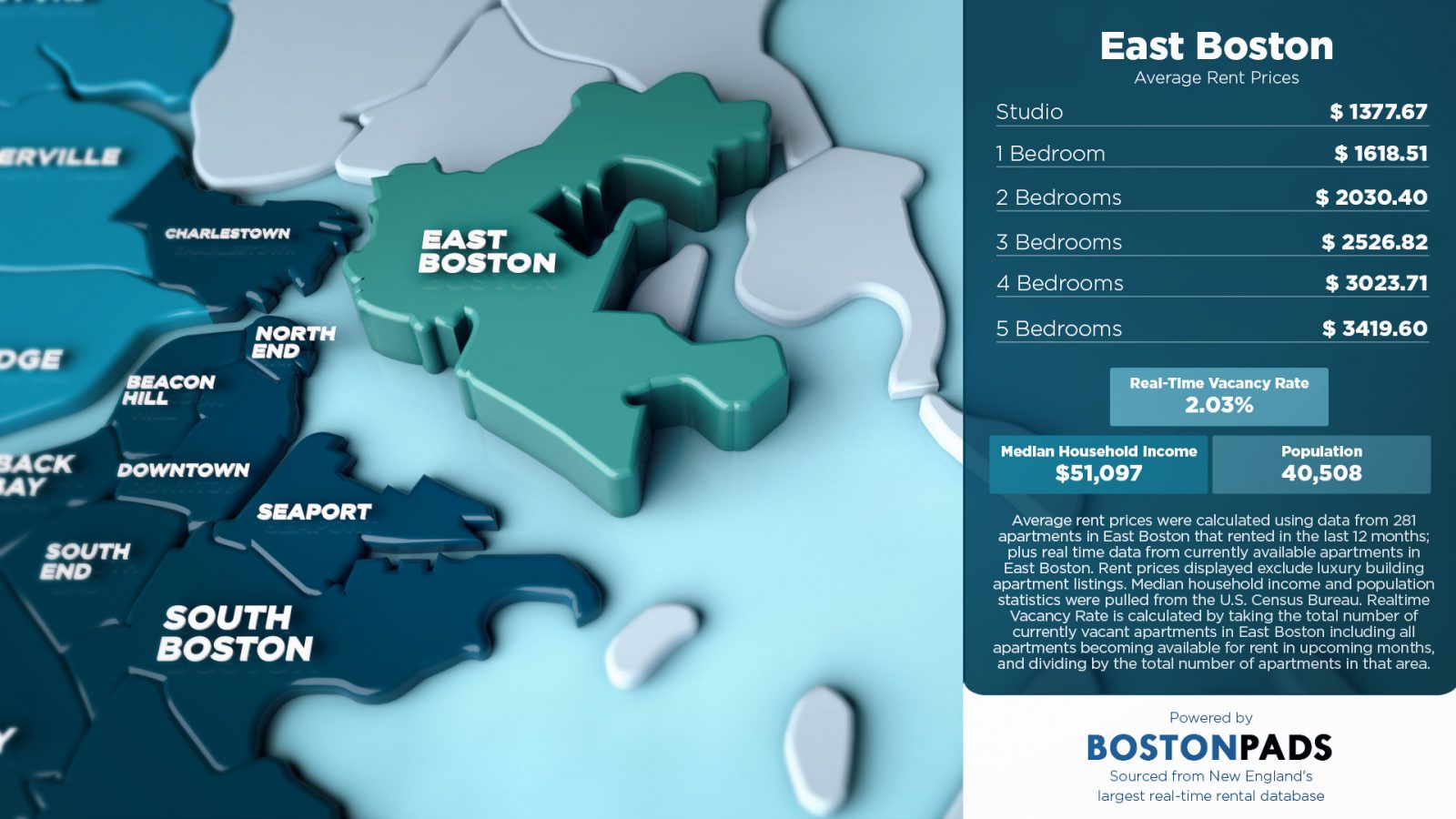 Average Rent Prices in East Boston
East Boston Pads recently published an infographic depicting average rental costs in East Boston. The data came from Boston Pads, the largest real time rental database in New England, which includes more than 156,000 Greater Boston apartments, 500,000+ photos of Boston apartments for rent, and 8,000+ apartment video tours.
The average rents in the infographic were calculated from a sample of 281 East Boston apartments currently listed in or rented out of the East Boston Pads database within the past 12 months. The real time vacancy rate of 4 percent was calculated from the sum of currently available apartments and apartments becoming available in the next few months, divided by the total number of East Boston apartments in the database. For demographic information – population and average household income – East Boston Pads referred to the United States Census Bureau.
East Boston rent prices are, on average, significantly less pricey than those of its neighbors across the water, Charlestown and the North End. For a studio, East Boston renters pay nearly $200 less than North End renters and more than $400 less, on average, than renters in Charlestown. For a 1-bedroom, North End renters pay an average of over $600 more than those in East Boston. The difference between the two neighborhoods jumps to about $900 for 2-bedroom units, nearly $1,400 for 3-bedroom apartments, and drops down to about $450 for 4-bedroom apartments.
Beds
East Boston
Charlestown
North End
Studio
$1,377.67
$1,798.50
$1,570.50
1 Bedroom
$1,618.51
$1,921.59
$2,247.45
2 Bedrooms
$2,030.40
$2,524.79
$2,934.42
3 Bedrooms
$2,526.82
$3,783.33
$3,905.67
East Boston does not only stand out as affordable compared to the neighborhoods closest to it. Out of 22 Greater Boston neighborhoods, towns, and cities studied, East Boston consistently ranks among the least costly, especially within the city limits. For studio apartments, it is the 18th highest average rent for studios, 19th for 1-bedroom, 3-bedroom, and 4-bedroom apartments, 20th for 2-bedroom, and 17th for 5-bedroom apartments. These rankings indicate that East Boston can be a great option for renters on a budget.
See our infographic for average rent prices in North End.
See our infographic for average rent prices in Charlestown.
About East Boston Pads
East Boston Pads, the leading online portal for East Boston real estate, is powered by the Boston Pads database. All the information you see in this graphic, and similar information for other parts of the Greater Boston Area, is available by phone 7 days a week. Landlords, renters, and other curious people who call get assistance from trained staff members or licensed real estate agents. Landlords call often to find out current prices of apartments in their neighborhoods, vacancy rates, recent trends, and other information. They use this data to set the ideal rent for their properties, increasing rental income and decreasing vacancy times.
Because Boston Pads is so locally focused and data-driven, the real estate giant has managed to build its professional network to 16,000 landlords based in the Greater Boston Area. These landlords get the widest and best marketing coverage available from a single source. Boston Pads syndicates listings to over 80 local, search engine optimized rental websites, plus nearly every national listing site like Trulia, Craigslist, and Zillow, and more than 100 targeted social media pages on Twitter, Facebook, and YouTube.
Between the most comprehensive marketing and the most accurate, timely data, Boston Pads stands out as the real estate and information technology leader in New England. Their platform scales with businesses that use it and adapts to any market. Any agency or landlord seeking out tools to gain an edge over their competition may utilize it.
To see the average rent prices for more towns, cities, and neighborhoods in Boston and its surrounding areas, check out a Boston Pads infographic on average rent prices in Boston by town.